Saga by Brian K. Vaughn
–
Monstress by Marjorie Liu
–
Locke and Key by Joe Hill
The story begins with the Locke family as they face a terrible loss. This event brings them to their family's ancestral home in the town of Lovecraft, Massachusetts. The 'Key House' holds many secrets within its grounds. The Locke kids (Tyler, Kinsey and Bode) are taken up in mystery and adventure as they discover secrets of their family's past and fight off dark forces they don't completely understand. It's great!!
Thor by Jason Aaron
–
Powers & House by Jonathan Hickman
–
Batman Rebirth by Tom King
–
Fables by Bill WIllingham
–
Bone by Jeff Smith
–
Amulet by Kazu Kabuishi
–
Superhero Girls by Shea Fontana
–
East of West by NickDragotta
–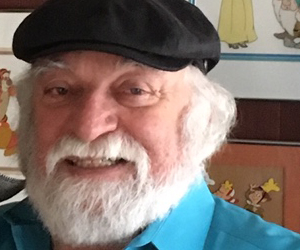 Joe Ferrara:

Atlantis Fantasyworld has a 35-year history that starts with its owner, Joe Ferrara…
I was born and raised in San Jose, California. As a kid I loved comics but stopped reading them when I got to high school. When I started college at Santa Clara University one of my roommates was Mike Friedrich. Mike was putting himself through college by writing comics, most notably Detective, and Justice League. This rekindled my interest in comics and I became an avid collector. I transferred to San Jose State University in 1971 where I received a BA in Music. I was making a pretty good living as a full time musician and never planned to do anything else.
However, on August 15, 1976, I moved from San Jose to Santa Cruz, California and discovered the only place in town to buy comics was in the back of a local record shop. Instead of driving to San Jose twice a week to buy comics, about a 70 mile round trip, I decided to use the 6,000 comics in my collection to start my own store. On November 27, 1976, Atlantis Fantasyworld opened it doors for the first time. After a few years my two occupations switched roles: Atlantis became my main support and music my hobby. I still play my music, entertaining every Friday at the Shadowbrook Restaurant in Capitola, California. I also have had the privilege of singing the National Anthem for the San Francisco Giants every year since 1981!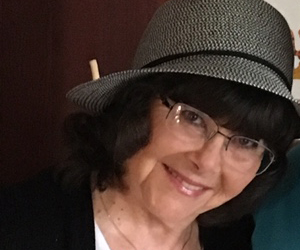 Dottie Ferrara:
For many years I worked as a Quality Assurance Representative at Lockheed Missile and Space Co. In 1992 I resigned from Lockheed and became an active partner in the design phase of the "new" Atlantis. Working together, using all our own ideas, Joe and I designed the new store.
Favorite Reads:
The comics I read are Strangers In Paradise, Jane's World, True Story Swear To God, Kabuki, Luba, Concrete and Terry Moore's Echo. All of these comics are considered Slice of Life books, except for Kabuki. These are my favorites because all of the creators are masterful storytellers and talented artists.  Also, I like Mike Grell's Jon Sable and especially his Green Arrow series. Two of my favorite graphic novels are Stuck Rubber Baby by Howard Cruise and Bryan Talbot's The Tale Of One Bad Rat.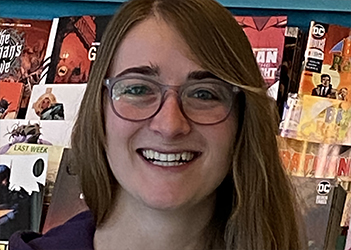 Trisha:
Trisha graduated from UC Santa Cruz with a degree in Environmental Geology in 2011. One day, she hopes to help save the world. Trisha is also involved in dance and loves music and art. When not watching cartoons, she can be found hiking through the woods or reading an assortment of science fiction, fantasy or comics!
Favorite Reads:
Far Sector by N.K. Jemisin
–
Avengers by Jason Aaron
–
Zita the Spacegirl by Ben Hatke
This ALL AGES graphic novel series follows the adventures of a young girl named Zita. The story begins as Zita enters a portal to the other side of the galaxy to rescue her best friend who was kidnapped by aliens!.
Adventure Time Comics
Follow Jake the Dog, Finn the Human and all of their friends as they fight monsters and rescue princesses. There are so many radical Adventure Time Stories, I can't choose just one favorite!
Planetary by Warren Ellis
Time-Space Archeologists! Need I say more?
The Immortal Iron Fist by Ed Brubaker and Matt Fraction
Mystical cities! Hydra agents! Heroes for Hire! In this series two of my favorite writers team up with one of my favorite artists to tell a tale of honor, destiny and Kung fu battles.
Rat Queens by Kurtis J. Wiebe
Sass and Sorcery! Hannah, Betty, Violet and Dee are the Rat Queens. Together they fight monsters, drink ale and cause general mayhem in this Dungeons & Dragons style adventure.
The Unwritten by Mike Carey
I describe this as Harry Potter for Big Kids. It takes a look at the power that literature has to shape our reality, and that there really just might be a bit of magic in everyone.
Low by Rick Remender
Thousands of years in the future humanity has been driven to the bottom of the oceans. They live in domed communities and have done so for as long as anyone can remember. But, now the air is turning toxic and once-civilized people are turning savage. One woman holds out hope that someday humanity will leave the depth and find a new home planet on which to thrive. The trouble is getting to the surface and then to the stars.
Wolverine and the X-Men by Jason Aaron
Following the events of Avengers Vs. X-Men Wolverine is left in charge of the Jean Grey School for Higher Learning. The story begins one the first day of school. We follow teachers (like Kitty Pryde, Wolverine, Ice Man, and Storm) and students (like Genesis, Quentin Quire, Idie, and Kid Gladiator) as they face the dangers of classes, alien invasions and school grounds that can eat you.
Autumnlands Tooth & Claw by Kurt Busiek
Magic wielding anthropomorphic animals! Floating cities! A young hero! This beautifully illustrated graphic novel is high fantasy at its best. AND THERE IS A TWIST!
Runaways by Randow Rowell
–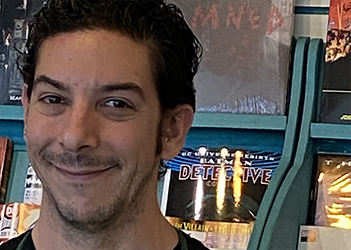 Nate:
Favorite Reads:
Transmetropolitan by Warren Ellis
–
Die by Kieron Gillen
–
Head Lopper by Andrew MacLean
–
Darth Vader by Charles Soule
–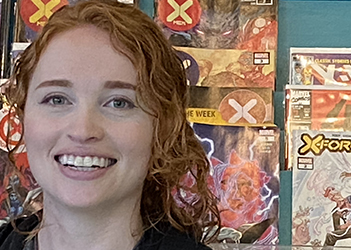 Elena:
Favorite Reads:
Transmetropolitan by Warren Ellis
–
Die by Kieron Gillen
–
Head Lopper by Andrew MacLean
–
Darth Vader by Charles Soule
–