Saga by Brian K. Vaughn
This sci-fi Romeo and Juliet story follows a young couple from warring races that fall in love and have a child. The young family are considered traitors and must spend their lives on the run. Packed with love, betrayal, action, and everything you want, this series is a must read!

Monstress by Marjorie Liu
Marjorie Liu is the first woman to win best writer at the Eisner awards for this masterpiece! Monstress is an intense survival story centered around a young girl named Maika who shares a psychic link with a powerful monster within her. Maika struggles to maintain control of her body and overcome her trauma while she searches for clues about her own identity.

Locke and Key by Joe Hill
The story begins with the Locke family as they face a terrible loss. This event brings them to their family's ancestral home in the town of Lovecraft, Massachusetts. The 'Key House' holds many secrets within its grounds. The Locke kids (Tyler, Kinsey and Bode) are taken up in mystery and adventure as they discover secrets of their family's past and fight off dark forces they don't completely understand. It's great!!
Thor by Jason Aaron
Adapted into a Marvel movie this is a must read. When Dr. Jane Foster lifts the mystic hammer Mjolnir, she is transformed into the Goddess of Thunder, The Mighty Thor.
Powers & House of X by Jonathan Hickman
A required book for any X-men (or Hickman) fan! Charles Xavier reveals his master plan, one that will bring mutants out of the shadows as we uncover mutantkind's secret history.  Stories intertwine on an epic scale as the X-Men's new order is reshaped!
Fables by Bill Willingham
After their homelands were taken over by a dark force, the "fables" make a home for themselves in New York City. Follow Snow White, Cinderella, and other classic folklore and fairy tale characters in the modern world!
Bone by Jeff Smith
An all ages must read! After being chased out of Boneville, three little cousins get swept up in a comedic adventure full of dragons, princesses, and evil rat creatures in order to save the world.

Amulet by Kazu Kabuishi
After a family tragedy Emily and Navin, move to a new house to help reboot their lives. As they clean the house, Emily finds a strange amulet in the library where her great-grandfather, Silas Charnon, worked, and puts it on. A great book for fantasy lovers of all ages!

Superhero Girls by Shea Fontana
At Super Hero High School, Wonder Woman, Supergirl and their Super Hero friends attend exciting classes and deal with the awkwardness of growing up. Great for all ages!
East of West by NickDragotta
A dystopian Sci-Fi Western story centered around the four horsemen of the apocalypse. When death goes rogue, the other three horsemen must find him in order to complete their mission. Set in an alternate future in which the civil war never ended, the human tribes must unite or else perish in the upcoming apocalypse.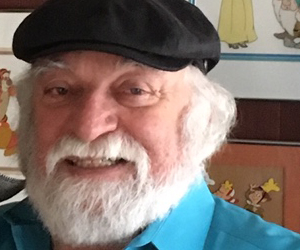 Joe Ferrara:

Atlantis Fantasyworld has a 35-year history that starts with its owner, Joe Ferrara…
I was born and raised in San Jose, California. As a kid I loved comics but stopped reading them when I got to high school. When I started college at Santa Clara University one of my roommates was Mike Friedrich. Mike was putting himself through college by writing comics, most notably Detective, and Justice League. This rekindled my interest in comics and I became an avid collector. I transferred to San Jose State University in 1971 where I received a BA in Music. I was making a pretty good living as a full time musician and never planned to do anything else.
However, on August 15, 1976, I moved from San Jose to Santa Cruz, California and discovered the only place in town to buy comics was in the back of a local record shop. Instead of driving to San Jose twice a week to buy comics, about a 70 mile round trip, I decided to use the 6,000 comics in my collection to start my own store. On November 27, 1976, Atlantis Fantasyworld opened it doors for the first time. After a few years my two occupations switched roles: Atlantis became my main support and music my hobby. I still play my music, entertaining every Friday at the Shadowbrook Restaurant in Capitola, California. I also have had the privilege of singing the National Anthem for the San Francisco Giants every year since 1981!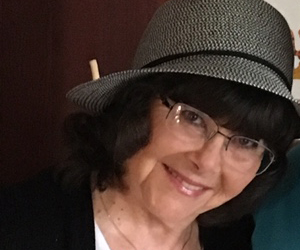 Dottie Ferrara:
For many years I worked as a Quality Assurance Representative at Lockheed Missile and Space Co. In 1992 I resigned from Lockheed and became an active partner in the design phase of the "new" Atlantis. Working together, using all our own ideas, Joe and I designed the new store.
Favorite Reads:
The comics I read are Strangers In Paradise, Jane's World, True Story Swear To God, Kabuki, Luba, Concrete and Terry Moore's Echo. All of these comics are considered Slice of Life books, except for Kabuki. These are my favorites because all of the creators are masterful storytellers and talented artists.  Also, I like Mike Grell's Jon Sable and especially his Green Arrow series. Two of my favorite graphic novels are Stuck Rubber Baby by Howard Cruise and Bryan Talbot's The Tale Of One Bad Rat.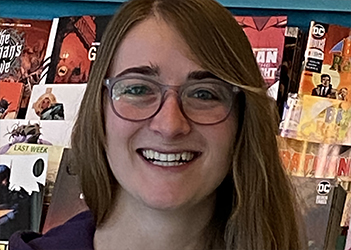 Trisha:
Trisha graduated from UC Santa Cruz with a degree in Environmental Geology in 2011. One day, she hopes to help save the world. Trisha is also involved in dance and loves music and art. When not watching cartoons, she can be found hiking through the woods or reading an assortment of science fiction, fantasy or comics!
Favorite Reads:
Far Sector by N.K. Jemisin
–
Avengers by Jason Aaron
–
Zita the Spacegirl by Ben Hatke
This ALL AGES graphic novel series follows the adventures of a young girl named Zita. The story begins as Zita enters a portal to the other side of the galaxy to rescue her best friend who was kidnapped by aliens!.
Adventure Time Comics
Follow Jake the Dog, Finn the Human and all of their friends as they fight monsters and rescue princesses. There are so many radical Adventure Time Stories, I can't choose just one favorite!
Planetary by Warren Ellis
Time-Space Archeologists! Need I say more?
The Immortal Iron Fist by Ed Brubaker and Matt Fraction
Mystical cities! Hydra agents! Heroes for Hire! In this series two of my favorite writers team up with one of my favorite artists to tell a tale of honor, destiny and Kung fu battles.
Rat Queens by Kurtis J. Wiebe
Sass and Sorcery! Hannah, Betty, Violet and Dee are the Rat Queens. Together they fight monsters, drink ale and cause general mayhem in this Dungeons & Dragons style adventure.
The Unwritten by Mike Carey
I describe this as Harry Potter for Big Kids. It takes a look at the power that literature has to shape our reality, and that there really just might be a bit of magic in everyone.
Low by Rick Remender
Thousands of years in the future humanity has been driven to the bottom of the oceans. They live in domed communities and have done so for as long as anyone can remember. But, now the air is turning toxic and once-civilized people are turning savage. One woman holds out hope that someday humanity will leave the depth and find a new home planet on which to thrive. The trouble is getting to the surface and then to the stars.
Wolverine and the X-Men by Jason Aaron
Following the events of Avengers Vs. X-Men Wolverine is left in charge of the Jean Grey School for Higher Learning. The story begins one the first day of school. We follow teachers (like Kitty Pryde, Wolverine, Ice Man, and Storm) and students (like Genesis, Quentin Quire, Idie, and Kid Gladiator) as they face the dangers of classes, alien invasions and school grounds that can eat you.
Autumnlands Tooth & Claw by Kurt Busiek
Magic wielding anthropomorphic animals! Floating cities! A young hero! This beautifully illustrated graphic novel is high fantasy at its best. AND THERE IS A TWIST!
Runaways by Randow Rowell
–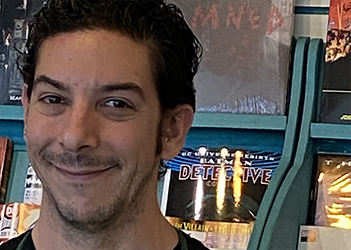 Nate:
Favorite Reads:
Transmetropolitan by Warren Ellis
In a surreal New York City,  a reporter named Spider Jerusalem is dedicated to fighting and exposing the corruption that plagues the city. The series tackles political corruption, abuse of power, and is a great parallel to modern media.

Die by Kieron Gillen
A horror version of Jumanji meets Dungeons and Dragons! Trapped in their RPG for years, a group of friends finally manage to escape, but are forced to leave one friend behind. Years later they reunite and discover the same 20 sided die they used all those years ago. Sucked back into the game world, the group is forced to confront the same friend they abandoned years ago.

Head Lopper by Andrew MacLean
Nergal, also known as Head Lopper, and the sassy head of Agatha the Blue Witch aren't the duo you expect, but are certainly fun to read. Hired to slay a sorcerer, the two embark on an adventure full of monsters and magic!

Darth Vader by Charles Soule
–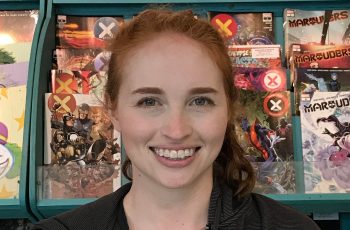 Coda by Simon Spurrier
A post-apocalyptic fantasy story narrated by a sarcastic bard named Hum. The world was once full of magic and fantastical beings but after a great war it is now a desolate wasteland. Hum treks through the ruins in search of his wife with his trusted man-eating pentacorn. Both the art and story are beautiful! 
Vision by Tom King
This comic feels like an episode of The Twilight Zone. When the vision decides to build himself the "perfect family" things don't exactly go as he planned. What could go wrong with a family of robots trying to be human? This is a fantastically creepy story and is easy to read even if you're not familiar with the Marvel universe. 
Blackbird  by Sam Humphries
Nina is a young adult convinced that magic is real after witnessing it as a child. Ever since she saw a magical beast she's been obsessed with magic and the 'cabals'. I was initially drawn to the neon colors and the art that reminded me of Wicked of and Divine. I love the concept of a secret magical society beneath the streets of LA and I look forward to seeing how Nina's journey goes!
Invisible Kingdom by Willow Wilson
If G. Willow Wilson (Ms. Marvel) and Christian Ward (Black Bolt artist) working together isn't enough to make you run to pick this up then the story sure is! A saga about a new religious acolyte and a pilot who both separately discover a conspiracy between the head of the religion and the massive corporation that controls their system. The two are forced to  team up to flee from the two powerhouses of the galaxy! Christian Ward is definitely one of my favorite artists when it comes to space. I loved his work on Black Bolt and I loved this story equally. This is definitely a must read. 
Silver Surfer Black by Donny Cates
After being thrown into a black hole Silver Surfer travels throughout space fighting against the void and reflecting on his life as the herald of Galactus. It's really interesting to see inside of the mind of Silver Surfer while he explores the galaxy and encounters a variety of crazy beings. Donny Cates has become 'the space writer guy' in my book at this point. And when he's paired with the wacky psychedelic art of Tradd Moore it really completes this story. 
Champions
When Ms Marvel is fed up with the Avengers wreaking havoc in cities and not cleaning up the mess she decides to start her own team. Accompanied by Miles Morales Spider-Man, Viv Vision, Brawn, Sam Alexander Nova and kid Cyclopse the team of young superheroes decide to help the people rebuild rather than fight supervillains. This is a fantastic series that is great for everyone to read. The team works to protect and help the people instead of punching bad guys (but don't worry, there's plenty of that). I really enjoy reading comics with younger superheroes because they are always optimistic, goofy, and they focus on friendship.  
Suspersons by Peter J Tomasi
This is a hilarious and adorable comic about the adventures of Damien Wayne (Robin) and Jon Kent (superboy). Aptly named "Supersons" considering they're the sons of Batman and Superman! While Damien is a sassy and brooding 13 year old, Jon is a bright and excitable 10 year old determined to be friends with Damien. The two form a strong friendship and team up to fight villains and become best friends! If you want a good laugh and a heartwarming story of friendship definitely pick this up. 
Uzumaki by Junji Ito
Kirie Goshima's boyfriend Shuichi Saito is convinced that their town is haunted by a hypnotic shape known as 'uzumaki', or spirals. The curse slowly drives people mad as they are haunted and tortured by spiral patterns everywhere they look. An unsettling but interesting story about the slow progression into insanity. This is an essential for any horror fan!
Monster by Naoki Urasawa
A renowned neurosurgeon, Kenzo Tenma, is caught in a dilemma of saving the life of the mayor or a young boy. When he chooses to disobey the direct orders of the hospital and save the boy, he unknowingly saves a monster. Nine years later when Tenma discovers that he actually saved the life of a serial killer he is determined to catch him and rectify his past mistake. Monster is a thought provoking psychological thriller full of twists and turns. Anyone that enjoys thrillers and crime would definitely love this manga.
Canto by  David M Booher 
An adorable story about a little "knight" named Canto. His people are enslaved by orcs and have their hearts replaced by clocks. When his love interest has her clock damaged, Canto decides to go on a journey to repair it and save her. Canto's journey is full of hope and adventure!