Welcome to Atlantis Fantasyworld online!

Our store has come a long ways since its birth in a dusty warehouse at the bottom of the mall. Today, we have upgraded both our look and our location. Take a peek below, but come see us as well!

For 44 years, Atlantis has provided the Santa Cruz, California community with a comfortable themed entertainment store for the whole family. Now expanding beyond those boundaries, Atlantis invites you to explore its website. Here you can learn more about the store, upcoming sales or special events, meet our staff, shop for comics, toys and gifts or simply take a virtual wander through our store.
Read the store's profile and an interview with Joe at Sequential Tart.
About the store
In November 2013, Atlantis Fantasyworld celebrated its 39th Anniversary.  During that time, Atlantis has had three locations.  The first, a 2000 square foot wooden building, circa 1930, originally housed a family grocery store.  The comic book store scenes that appear in the popular cult movie "The Lost Boys" were filmed in this location.  Atlantis operated in this building for thirteen years until the 1989 Loma Prieta earthquake damaged it beyond repair. 
In Santa Cruz, more than forty downtown businesses were damaged in this devastating earthquake.  Atlantis was forced to relocate into an 800 square foot section of a 6,000 square foot tent.  This pavilion/tent and seven similar structures were built by the city on the parking lots of what remained of downtown.  What was to be a six-month temporary arrangement for Atlantis became a business saving solution lasting three years.
In 1992, Atlantis found its permanent home in the newly constructed retail space adjacent to the downtown parking garage.  Originally occupying 1,000 square feet, Atlantis expanded in 1994 to its current size of 1,600 square feet of retail space. 
The expansion, named the "U.S.S. Atlantis", simulates the engineering deck of a Starship.  A monitor screen, catwalk to a Jeffries Tube, simulated warp engine, and four red alert lights, add realism to the design. On the back wall is a full mural of the engineering station, and through airbrushed windows you can see the U.S.S. Enterprise in orbit around Planet Earth.
In 1996 four years after moving to what is hopefully our final location Atlantis was selected as the 1996 recipient of the "Will Eisner Spirit of Comics" Retailers Award.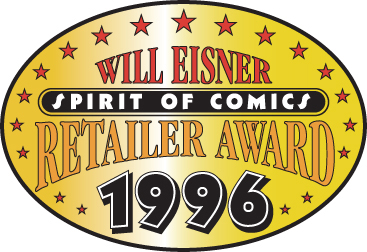 We like to think that Atlantis is not only a place to shop, but also a destination for entertainment and fun.
The most important tool for successful customer service is a good staff. We are proud of our staff members, past and present, and feel that their contribution played a significant role in Atlantis Fantasyworld's selection as the 1996 recipient of the "Will Eisner Spirit of Comics" Retailer Award.
Wonder Robot 2t2
Atlantis Fantasyworld is home to Wonder Robot 2T2, featured on the Captain Cosmic TV show from 1977 to 1980.
Read all about Wonder Robot 2T2 on his very own website:
http://www.bobwilkins.net/2t2.htm
To receive weekly secret messages from 2T2, join the Captain Cosmic Space Patrol! To become a member, and receive your FREE Secret Crypto-Code Decoder Card, come into Atlantis, or e-mail your address to: joe@atlantisfantasyworld.com